Explore the exciting tooth replacement options available at New Vision Dentistry in Citrus Heights, CA.
Spaces in your mouth from missing teeth can pose serious risks to the health of your remaining teeth and gums. Missing teeth can interfere with the way you eat, speak, and smile, and leaving empty spaces open puts more stress on your remaining teeth, causing accelerated wear and tear and erosion of healthy enamel. Empty spaces are an ideal space for harmful bacteria to grow, causing decay of the surrounding teeth, bad breath, and an increased risk of infection. If you have missing teeth, it's important to make replacing them a priority, and New Vision Dentistry has the replacement options you need to restore your smile.
If you've lost a tooth from trauma, decay, or are scheduled for an extraction, explore the replacement options below to discover the right choice for you.
Dental Implants
Dental implants are the most popular option for tooth replacement. Dental implants offer a permanent solution for replacing a missing tooth with a natural and realistic finish. Dental implants are not removable and require no special steps for cleaning and maintenance, aside from regular brushing and flossing. Dental implants pose no threat of damage to surrounding teeth like other replacement options and are custom made to match the exact size and shape of your natural teeth. Dental implants rely on a titanium post that is inserted into the jaw to mimic natural tooth roots. A custom fabricated prosthetic tooth is permanently attached to the top of the titanium post to complete the treatment and restore your smile.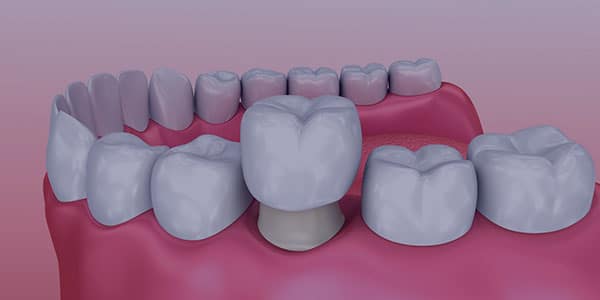 Partial Denture
Partial dentures are a removable replacement option for missing teeth. Partial dentures are made from metal or plastic and are durable for frequent removal and replacement. The prosthetic teeth of prosthetic dentures are held in place in your mouth by wire clips, and when inserted, the tooth looks realistic and hides any evidence of a missing tooth.
Bridge
A bridge is a set of connected teeth used to fill the space left from a missing tooth. To install a bridge, your dentist will shave down the adjacent teeth and permanently attach crowns on top to support the prosthetic tooth in the middle. Bridges have a realistic finish, and the replacement may only be noticeable on close viewing.
No matter what your replacement needs, Dr. Azouz, Dr. Behl, and the expert team at New Vision Dentistry is ready with the options you need to complete your smile and protect your mouth from damage. Our team is expertly trained in a variety of tooth replacement options, so you are guaranteed flawless professional results. Call our office today to schedule your tooth replacement consultation and get on the road to smiling confidently again with a complete smile.