Noticing changes in the color of your teeth? New Vision Dentistry can help with color correcting options to restore your smile.
Over time the enamel of your teeth can change, leaving the look of stained, dull, and discolored teeth. If you've noticed changes in the appearance of your teeth New Vision Dentistry in Citrus Heights, CA has the whitening services, you need to reverse discoloration and restore the youthful look of healthy white teeth.
There are a few factors that can contribute to the discoloration of your teeth, including age, natural wear and tear over time, food and drinks like coffee, berries and tea, trauma and underlying health conditions. Some people notice the gradual changes in their teeth and avoid seeking treatment because they think the effects are irreversible. The good news is, discolorations on teeth are treatable with simple, easy options done right in our office.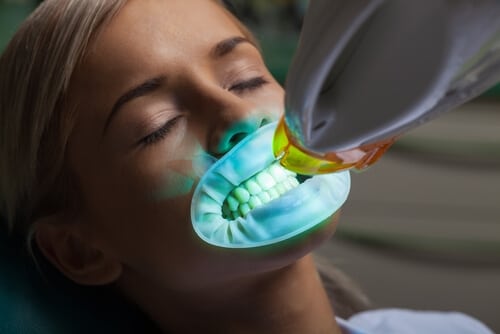 Some people choose at-home whitening treatments to correct discoloration, but some at-home treatments can be harmful to your teeth and less effective than the in-office treatments available at New Vision Dentistry. Some at-home teeth whitening systems use harsh, abrasive materials that can damage the teeth. At home whitening agents aren't as strong as in-office treatments, which leads many people to leave the bleaching agents on the teeth for longer than prescribed. This improper use can do serious damage to the tooth enamel and put you at risk for oral health issues in the future.
New Vision Dentistry has the safe, effective tooth discoloration treatments you need to make your smile shine. Our team will work with you to restore your teeth to the shade you desire with a controlled treatment that preserves the enamel and integrity of your teeth.
At New Vision Dentistry, we offer the cosmetic services you want with the oral healthcare you need to ensure you have a healthy mouth that looks great and feels great. Contact our Dr. Azouz, Dr. Behl, and our expert team today to schedule your consultation and let us restore your smile to the shade you want.