Fear of the dentist can hold you back from vital dental care you need to keep your teeth and body healthy. At New Vision Dentistry, we prioritize your safety and comfort to ease your anxiety and calm your fears.
For some people, the thought of going to the dentist can spark feelings of anxiety so severe that they avoid dentist visits until their oral health begins to fail. Dental phobia has a severe impact on the health of your teeth and can make even simple procedures like cleanings and exams incredibly difficult. Dental anxiety can be the result of a previous negative dental experience, or it could be from preconceived ideas of what may happen during the dentist visit. Just the simple thought of a dental drill or complicated dental equipment can be enough to make arriving at the dentist for an appointment near impossible. It's important to note that dental anxiety is quite common, and there are many people out there who feel just like you. At New Vision Dentistry in Citrus Heights, CA, we understand dental anxiety, and we have perfected a plan to make sure that every one of our patients feels safe, supported, and comfortable throughout every dental procedure, no matter how minor. The best way for patients to begin working through dental anxiety is by having a successful visit with competent and careful dental professionals like our team at New Vision Dentistry.
Managing Dental Anxiety
Avoiding routine dental visits because of dental anxiety leads to more extensive damage. When you have extensive damage to your teeth and gums, more invasive and advanced dental procedures are necessary to keep your mouth healthy, which could lead to increased anxiety. You don't want to get trapped in that unhealthy cycle, so it's important to find ways effective ways to manage your dental anxiety.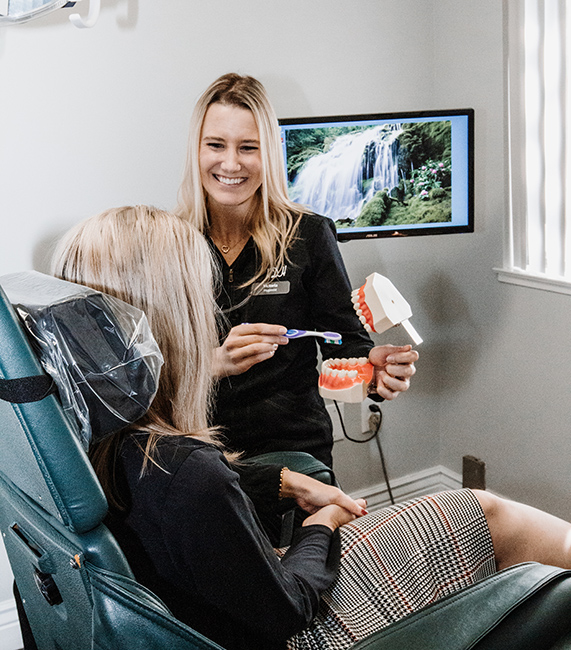 Understanding Your Dental Anxiety
Identifying the underlying cause of your fear can help you, and your dentist better understand how best to address it. Think about the following list and decide what scares you most about going to the dentist.
Pain
Numbness
Dental Equipment/Drills
Choking/Gagging
Surrendering Control
Needles/Injections
Judgment for Condition of Your Teeth
At New Vision Dentistry, we work with patients with dental anxiety carefully to understand your triggers and fears before your procedure. We offer sedation services and alternative dental technologies to customize your dentist visit for your optimal comfort. We are proud of our judgment-free office, where patients can feel comfortable talking through their fears and dental issues. No matter how advanced your dental trouble has become, Dr. Azouz, Dr. Behl, and our supportive team guarantees you will be treated with respect and compassion every step of the way.
There are a few other suggestions we have for first-time patients with dental anxiety, including:
Requesting a mirror so you can see what is happening during your procedure and regain some control to ease your anxiety
Listening to calming music during your procedure
Establishing a safe word or signal with your dentist to alert them when you are feeling pain or tension and would like a break
At New Vision Dentistry, we want to help you work through your dental anxiety while providing premium dental care to keep your teeth and gums healthy. Call us today to learn more about how we can help you get the services you need in our patient, comforting, and safe environment. Schedule your consultation with our team today and take the first step towards overcoming your fears.